Magical Lifestyle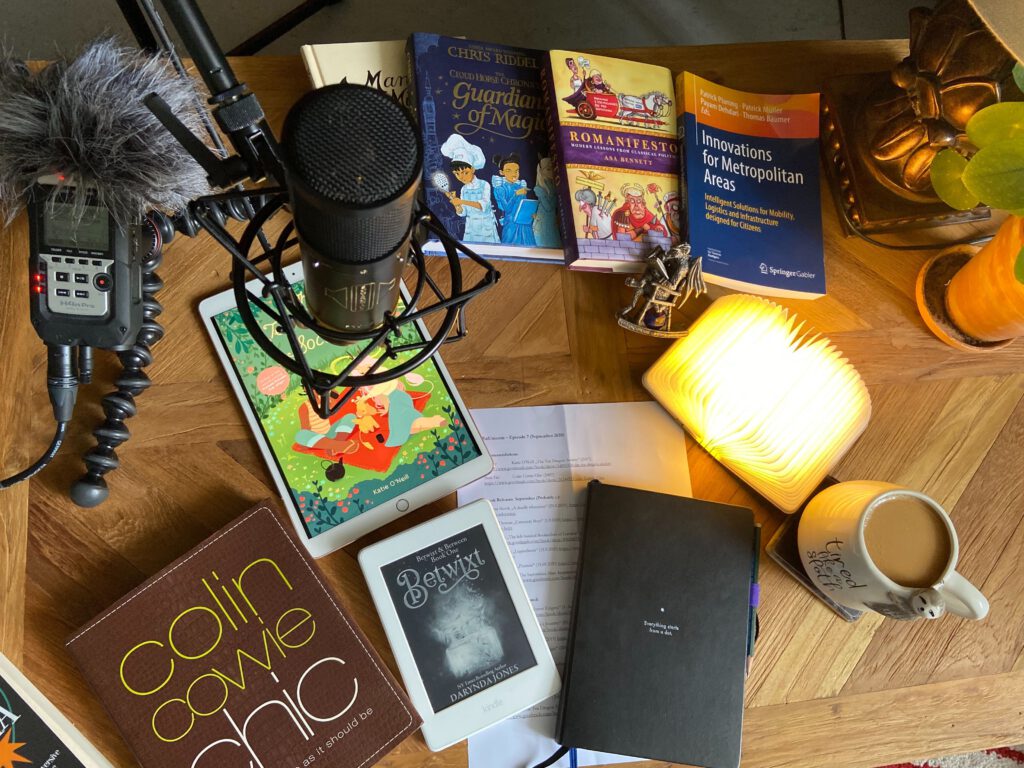 In Episode No. 7 our Bookdragon SandyJ recommends books that will help you to bring some magic to your life, should you wish to do so. Fantasy books for the young at heart and grown women with shapeshifters galore and an all encompassing lifestyle book by a South African wedding planner.
Katie O'Neills "Tea Dragon Society" invites you to enjoy a warm cup of tea and a cozy hour of reading on a chilly Autumn afternoon. "Betwixt" by Darynda Jones is for all the grown women who wish for witches that are as cool as themselves and older then 25. Colin Cowie gives you the necessary tips to style your life as chic as it could be.
In other news: Libby by Overdrive is now available for users of the Stadtbibliothek Karlsruhe and SandyJ is loving it. September 2020 brings new books in troves, so our Bookdragon gives you a few hints what books to look out for. Luckily with Fall around the corner the weather and reading chairs are calling for travelling in fictional worlds instead of the real world.
Premiere stream: Sunday, September 6, 7 P.M.
Podcast Apps: next week
Host: SandyJ
Music: Erwin Schmidt
Recommendations
Fantasy:
Katie O'Neill "The Tea Dragon Society" (2017) https://www.goodreads.com/book/show/34895950-the-tea-dragon-society
Darynda Jones "Betwixt" (2020) https://www.goodreads.com/book/show/51261294-betwixt
Non-Fic:
Colin Cowie Chic (2007) https://www.goodreads.com/book/show/2024492.Colin_Cowie_Chic
Side-Recommendation
G. L. Carriger "The Enforcer Enigma" (1. August 2020) https://www.goodreads.com/book/show/42091427-the-enforcer-enigma
Book Releases  September (probably)
Naomi Novik "A deadly education" (29.9.2020), https://www.goodreads.com/book/show/50548197-a-deadly-education
Aidan Thomas "Cemetery Boys" (1.9.2020) https://www.goodreads.com/book/show/52339313-cemetery-boys
Garth Nix "The left-handed Booksellers of London" (22.9.2020) https://www.goodreads.com/book/show/43655633-the-left-handed-booksellers-of-london
Tracy Deonn "Legendborn" (15.9.2020) https://www.goodreads.com/book/show/50892338-legendborn (Black Author)
Susanna Clarke "Piranesi" (15.09.2020) https://www.goodreads.com/book/show/50202953-piranesi
Scott Schuman "The Sartorialist: Man: Inspiration Every Man Wants, Education Every Man Needs" (9.9.2020) https://www.goodreads.com/book/show/52581503-the-sartorialist
Other Books mentioned:
Gail Carriger "The Heroine's Journey" (01.10.2020), https://www.goodreads.com/book/show/54618699-the-heroine-s-journey
Asa Bennett "Romanifesto" (2019) https://www.goodreads.com/book/show/48747673-romanifesto
Chris Riddell "Guardians of Magic" (2019) https://www.goodreads.com/book/show/45028754-guardians-of-magic
Chris McCrudden "Battlestar Suburbia" (2018) https://www.goodreads.com/book/show/45028754-guardians-of-magic
Brummell & Beau "Manners for Millionaires" (2014) https://www.goodreads.com/book/show/18526937-manners-for-millionaires
Kaylynn Flanders "Shielded"  ( July 2020) https://www.goodreads.com/book/show/54837314-shielded
Katie O'neill "The Tea Dragon Tapestry" (27th October 2020) https://www.goodreads.com/book/show/51323376-the-tea-dragon-tapestry
Planing, P., Müller, P., Dehdari, P., Bäumer, Th." Innovations for Metropolitan Areas" (2020) https://www.springer.com/gp/book/9783662608050#aboutAuthors