Reorganized Fairytales
In the January 2021 episode of Engineered Unicorns our local Bookdragon SandyJ looks back on her reading year and forward to the new one.
Fairytales often shape our perception of the world and therefore are important as some of the foundations of our society. Therefore it is necessary to take a look at the stories that we tell ourselves and what they teach us and the young generations.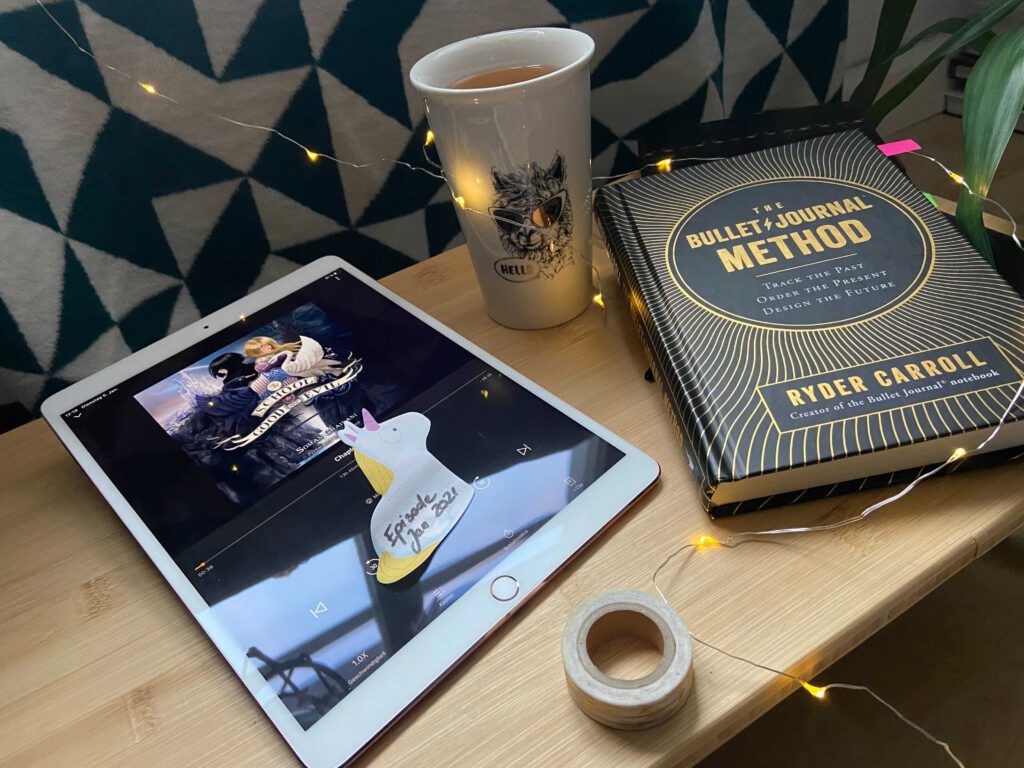 This months fantasy book recommendation "The School for Good & Evil" by Soman Chainani does just that. In a hilarious story it turns our perception of what good and evil look and act like on it's head. The narration by Polly Lee gives the story extra oomph.
Looking for a new way to organize your life but non of the "off-the-rack"-systems work for your special case? Then "the Bullet Journal Method" by Ryder Carroll might be the adaptable system you search for. SandyJ uses the Bullet Journal since 2018 and loves it.
Add in the interesting book releases of this month plus an ALL NEW THEME SONG by our favorite bass guitar player Erwin Schmidt (Thank you, Erwin) and you get an inkling what we will stream on Sunday, January 10, at 7 p.m. on Campusradio Karlsruhe. Dropping on the podcast platforms next week.
(Recorded on January 5th!)
Bookdragon: SandyJ
Musician Extraordinaire: Erwin Schmidt
Book Recommendations
Fiction:
Soman Chainani "The School for Good & Evil" (2013) https://www.goodreads.com/book/show/42080479-the-school-for-good-and-evil
Non-Fiction
Ryder Carroll "The Bullet Journal Method" (2018)
https://www.goodreads.com/book/show/39071691-the-bullet-journal-method
Videos:
How to Bullet Journal (Basic Video by Ryder Carroll)- https://www.youtube.com/watch?v=fm15cmYU0IM
How to ADHD – Interview with Ryder Carroll https://www.youtube.com/watch?v=TTlHT3d2Grs
TEDx – Talk by Ryder Carroll https://www.youtube.com/watch?v=ym6OYelD5fA
Ezeekat's Youtube Channel https://www.youtube.com/user/Kookamungakat
Other Stuff Mentioned:
Ezeekat's Book Club: https://www.goodreads.com/group/show/1136586-ezeekat-s-book-club
Amie Kaufmann, Meagan Spooner "The other side of the sky" (2020) https://www.goodreads.com/book/show/40599772-the-other-side-of-the-sky
Amy Noelle Parks "The Quantum weirdness of the almost kiss" (January 5th 2021) https://www.goodreads.com/book/show/51075452-the-quantum-weirdness-of-the-almost-kiss
J. Elle "Wings of ebony" (January 26th 2021) https://www.goodreads.com/book/show/54304072-wings-of-ebony (Black author)
Sarah Lariviere "Time travel for love and profit" (January 26th 2021) https://www.goodreads.com/book/show/50285849-time-travel-for-love-and-profit
Jack Harbon "Meet cute club" (2020) https://www.goodreads.com/book/show/51054227-meet-cute-club