Thin time and gay unicorns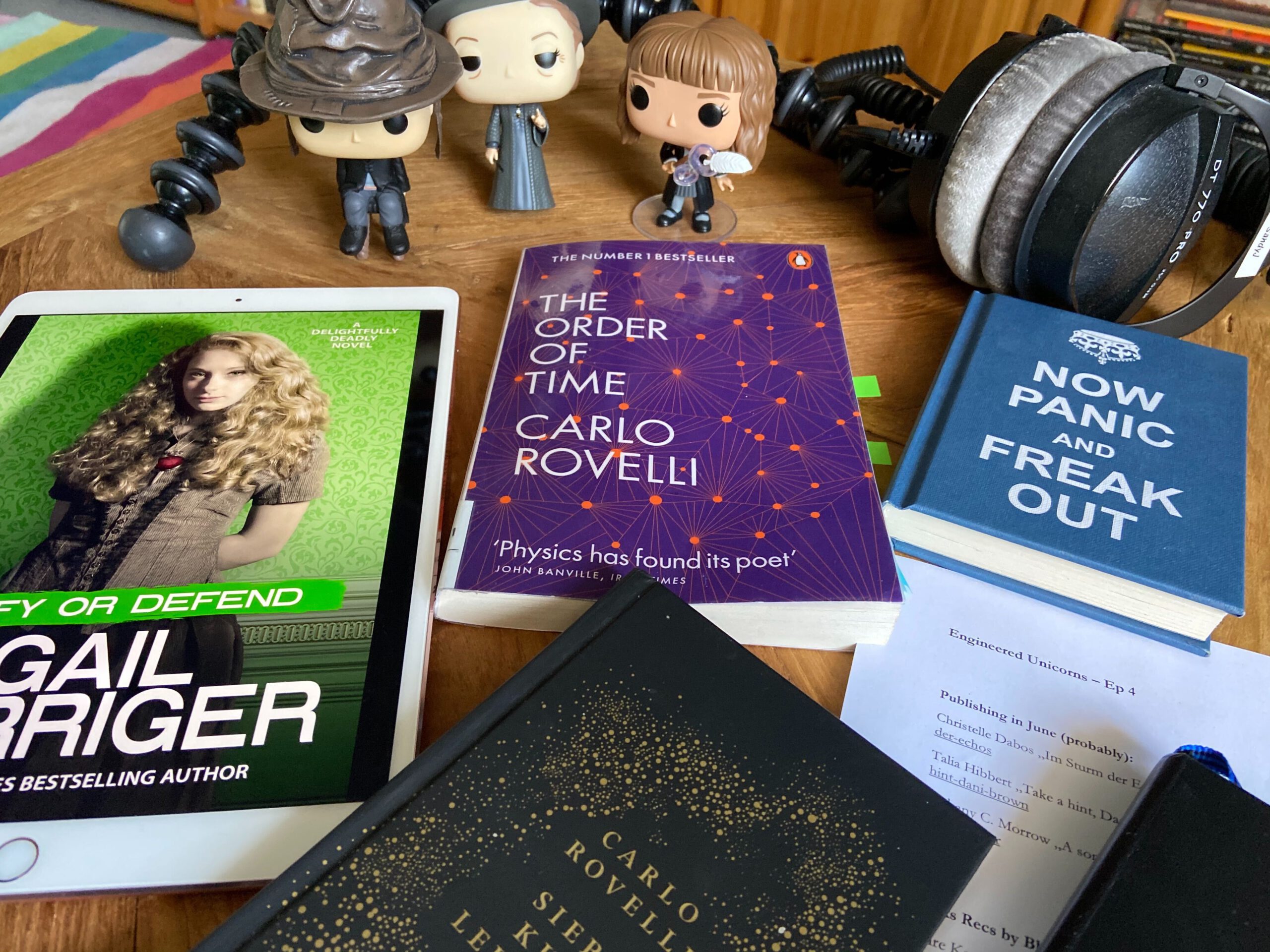 In the 4th episode of the Engineered Unicorns diversity is key. Books recommended include the genres romance, non-fiction physics, fantasy, contemporary, shifter romance, gay romance, alternate history and science fiction, the authors are trans, gay, Italian, PoC or plain old cis gender, but mostly female. The book list is looooong. The Fantasy book recommendation of this month is Gail Carrigers "Defy or Defend", stylish Vampires and the power of a well chosen wall paper.The Non-Fiction book recommendation is Carlo Rovellis "The Order of Time", a small but mindbending physics and poetic book.
The recommendations come not only from SandyJ but also from LisaL. This episode celebrates the magic of books and different voices. Black, female and LGBTQ+ voices matter (!!!!) and they provide fun and enlightening reading material, too.
This episode will have its premiere stream on Sunday, June 7, at 7 p.m. Further streaming on Tuesday 8 p.m., Wednesday 3 p.m. and next Saturday 10 a.m..
Oldschool UKW Radio Broadcast at 104.8 on Tuesday, 8 p.m.
Gail Carriger "Defy or Defend" https://www.goodreads.com/book/show/51969905-defy-or-defend
G. Carriger "San Andreas Shifters" https://www.goodreads.com/series/206131-san-andreas-shifters
Gail Carriger "Parasol Protectorate" https://www.goodreads.com/series/46888-parasol-protectorate
Gail Carriger "Finishing School Series" https://www.goodreads.com/series/58635-finishing-school
Gail Carriger Definitive Guide to Reading: https://gailcarriger.com/2018/08/01/the-definitive-gail-carriger-book-reading-order/
Carlo Rovelli "The Order of Time" https://www.goodreads.com/book/show/45427805-the-order-of-time
Carlo Rovelli "Sieben kurze Lektionen über Physik" https://www.goodreads.com/book/show/28357863-sieben-kurze-lektionen-ber-physik
Current Reads
Cynthia Hand, Brody Ashton, Jody Meadows "My Lady Jane" https://www.goodreads.com/book/show/22840421-my-lady-jane
Casey Mcquiston "Red, White and Royal Blue" https://www.goodreads.com/book/show/41150487-red-white-royal-blue
Publishing in June (probably ;-):
Christelle Dabos "Im Sturm der Echos" https://www.goodreads.com/book/show/48847952-im-sturm-der-echos
Talia Hibbert "Take a hint, Dani Brown" https://www.goodreads.com/book/show/49976087-take-a-hint-dani-brown
Bethany C. Morrow "A song below water" https://www.goodreads.com/book/show/39085465-a-song-below-water
Publishing in September (probably ;-):
Susanna Clarke "Piranesi" https://www.goodreads.com/book/show/50202953-piranesi
Books Recs by Black authors that I read:
Claire Kann "I fit makes you happy", Contemporary/Romance, 2019, American Library
https://www.goodreads.com/book/show/40851643-if-it-makes-you-happy
Talia Hibbert "Get a life, Chloe Brown" Romance, 2019
https://www.goodreads.com/book/show/43888874-get-a-life-chloe-brown
Books Recs by Black authors that Lisa read:
N.K. Jemisin "The Broken Earth Series" https://www.goodreads.com/series/112296-the-broken-earth
Books Recs by LGBTQ+ authors that I read or want to read:
T.J. Klune "The ligthning-struck Heart", Fantasy, Gay Romance, 2015
https://www.goodreads.com/book/show/24468673-the-lightning-struck-heart
Charlie Jane Anders " The City in the Middle of the Night", Science Fiction, 2020
https://www.goodreads.com/book/show/49113465-the-city-in-the-middle-of-the-night
Lists:
Fantasy Books by Black Authors: https://www.goodreads.com/list/show/133321.2020_Fantasy_and_Science_Fiction_Books_by_Black_Authors
Queer Fantasy Books: