Do you speak SMALL CAPS?!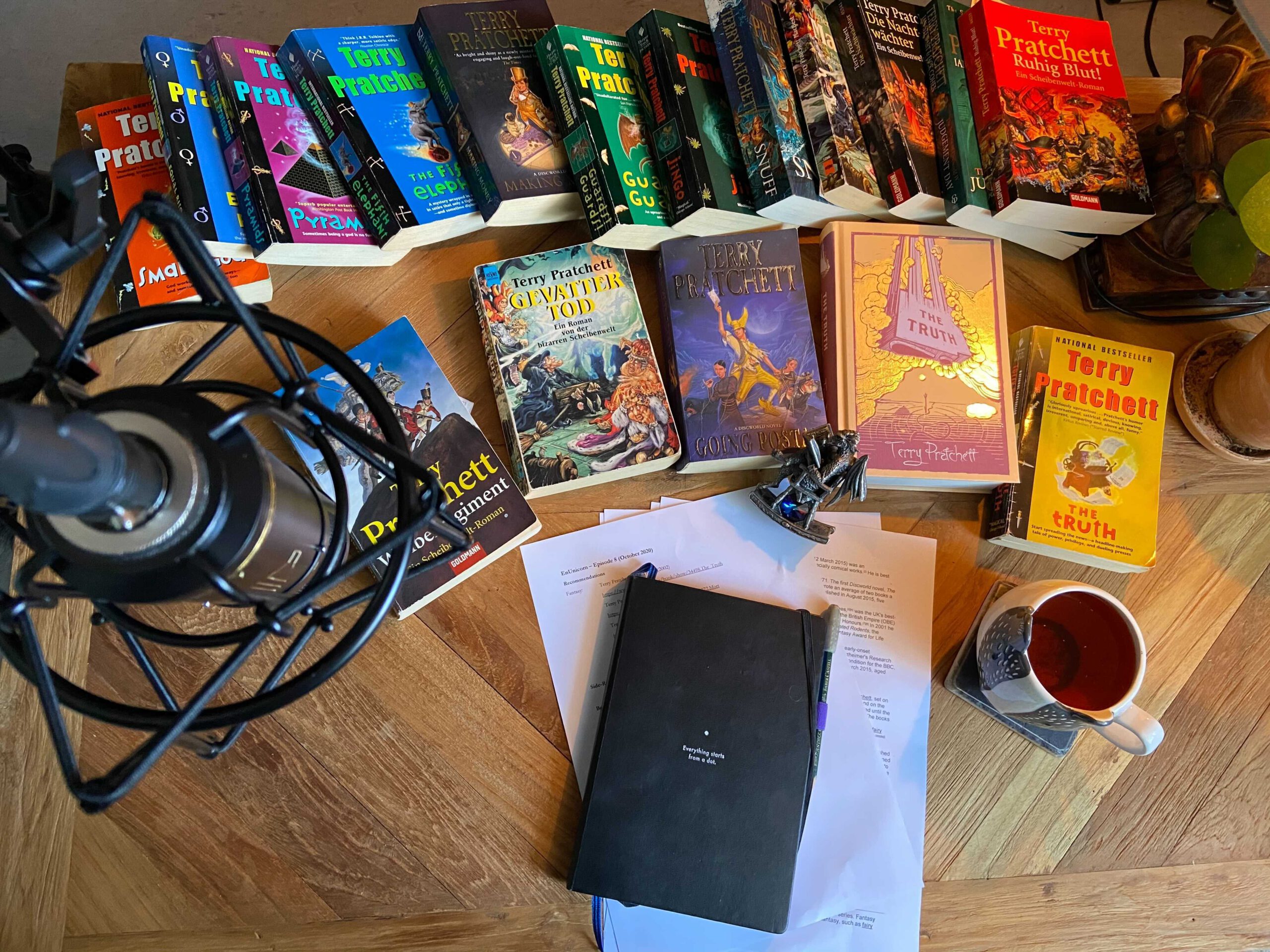 In the October episode of Engineered Unicorns our local Bookdragon SandyJ  introduces you to her favorite cosy autumnal reads. Instead of spooky she prefers fun and therefore reads  Terry Pratchett's Discworld Novels. Her favorite character speaks in SMALL CAPS and is more weird than spooky even though Halloween brings out a lot of depictions of him.
Looking for cosy fantasy? Then listen to the new episode of our Engineered Unicorns Podcast, Sunday, October 4th, 7 p.m. at Campusradio Karlsruhe.
On the podcast platforms it will be available on Monday, October 5th.
Bookdragon: SandyJ
Music: Erwin Schmidt
Recommendations
Fantasy:
Terry Pratchett "The Truth" (2002)
https://www.goodreads.com/book/show/34498.The_Truth
Terry Pratchett "Mort" (1987)
https://www.goodreads.com/book/show/386372.Mort
Terry Pratchett "Going Postal" (2004)
https://www.goodreads.com/book/show/64222.Going_Postal
Terry Pratchett "Monstrous Regiment" (2003)
https://www.goodreads.com/book/show/34511.Monstrous_Regiment
Information
https://en.wikipedia.org/wiki/Discworld
Semaphores = optical telegraph https://en.wikipedia.org/wiki/Optical_telegraph
Book Releases  October (Probably ;-):
Gail Carriger "The Heroine's Journey" (01.10.2020)
https://www.goodreads.com/book/show/54618699-the-heroine-s-journey
V.E. Schwab "The invisible life of Addie LaRue" (06.10.2020)
https://www.goodreads.com/book/show/50623864-the-invisible-life-of-addie-larue
Stefan Bachmann "Cinders and Sparrows" (13.10.2020)
https://www.goodreads.com/book/show/52165391-cinders-and-sparrows
C.L. Polk "The Midnight Bargain" (13.10.2020) (Black Author)
https://www.goodreads.com/book/show/49151031-the-midnight-bargain
Katie O'Neill "The Tea Dragon Tapestry" (27. October 2020)
https://www.goodreads.com/book/show/51323376-the-tea-dragon-tapestry
P. Djèlí Clark  "Ring Shout" (13. October 2020)
https://www.goodreads.com/book/show/49247242-ring-shout
Other Books mentioned:
Colin Cowie Chic (2007) https://www.goodreads.com/book/show/2024492.Colin_Cowie_Chic
V. S. Santoni "I'm a gay Wizard" (2017) https://www.goodreads.com/book/show/43809342-i-m-a-gay-wizard
Terry Pratchett (1998) https://www.goodreads.com/book/show/34541.Carpe_Jugulum