The Heroine's Journey to a Happy Ending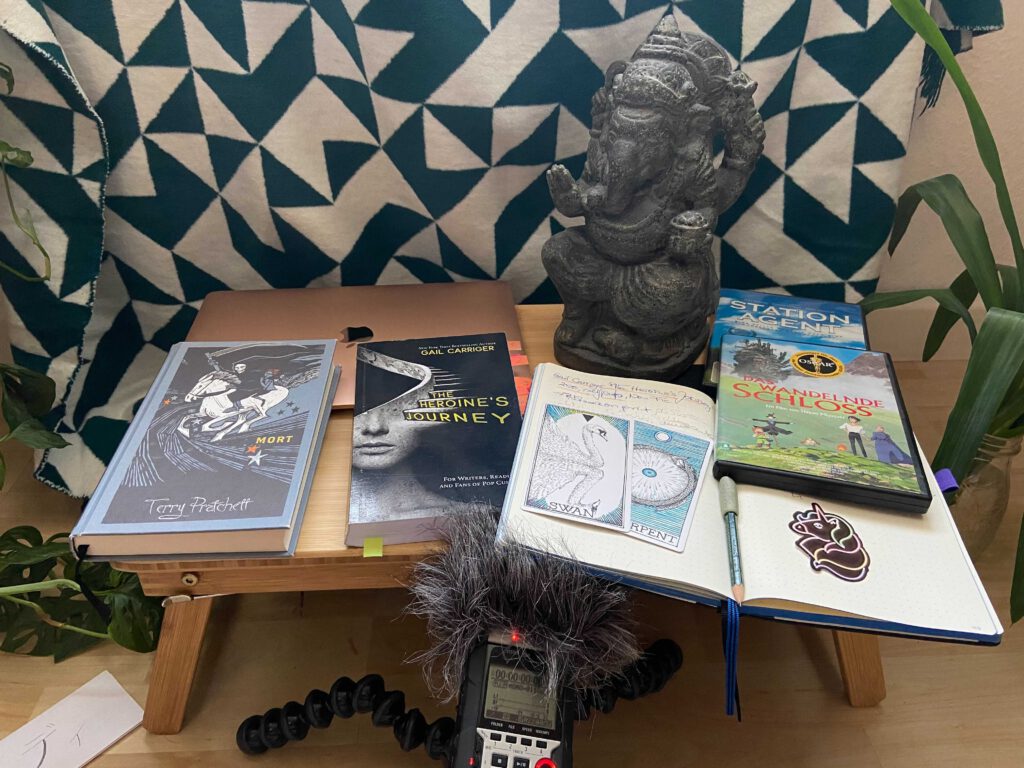 In these trying times our local Bookdragon SandyJ and countless readers around the globe take refuge in magical stories with happy endings. These stories are often based on a distinct and largely unknown narrative structure: the Heroine's Journey.
The new non-fiction book by Fantasy author (and Archeologist) Gail Carriger is written for authors and readers to get to know and use this narrative structure appropriately.
So join us on Sunday, November 8, at 7 p.m. on our stream to find the structure of positive stories and where to look for those stories.
On the podcast platforms you'll find this episode on Monday, noon-ish.
Bookdragon: SandyJ
Music: Erwin Schmidt
Book Recommendation:
Non-Fiction: Gail Carriger "The Heroine's Journey" (2020), https://www.goodreads.com/book/show/54618699-the-heroine-s-journey
Booktubers:
Hardback Hoarder – 2 very impressive videos one on vampires and their origins and the other as a character of Beetlejuice. Very Halloween.
Daniel Greene – Interviews with Brandon Sanderson and Steven Erikson
November Releases (probably ;-):
Charlie N. Holmberg "Spellbreaker" (1.11.2020) https://www.goodreads.com/book/show/49338237-spellbreaker
Jenn Bennett "Chasing Lucky" (11.11.2020) https://www.goodreads.com/book/show/52386214-chasing-lucky
Tochi Onyebuchi "Rebel Sisters (War Girls #2)" (17.11.2020) https://www.goodreads.com/book/show/52167568-rebel-sisters
Brandon Sanderson "Rhythm of War (Stormlight Archives 4)" (17.11.2020) https://www.goodreads.com/book/show/49021976-rhythm-of-war
Other Stuff mentioned:
Kobo writing life Podcast with Gail Carriger https://kobowritinglife.libsyn.com/218-the-heroines-journey-with-gail-carriger
The Every Day Novelist podcast with Gail Carriger http://everydaynovelist.com/2020/10/31/welcome-to-the-nanogang-2020/
Matt Haig "The Midnight Library"
Terry Pratchett "Mort" https://www.goodreads.com/book/show/386372.Mort
Brandon Sanderson "The Way of Kings" https://www.goodreads.com/book/show/7235533-the-way-of-kings
J. K. Rowling "Harry Potter" Series
Steven Erikson "Malazan Book of the Fallen" Series https://www.goodreads.com/series/43493-malazan-book-of-the-fallen
Movie "Howl's Moving Castle" https://www.imdb.com/title/tt0347149/?ref_=nv_sr_srsg_0
Movie "Station Agent" https://www.imdb.com/title/tt0340377/?ref_=nv_sr_srsg_0