Books, Music, Fairylights and Susuharai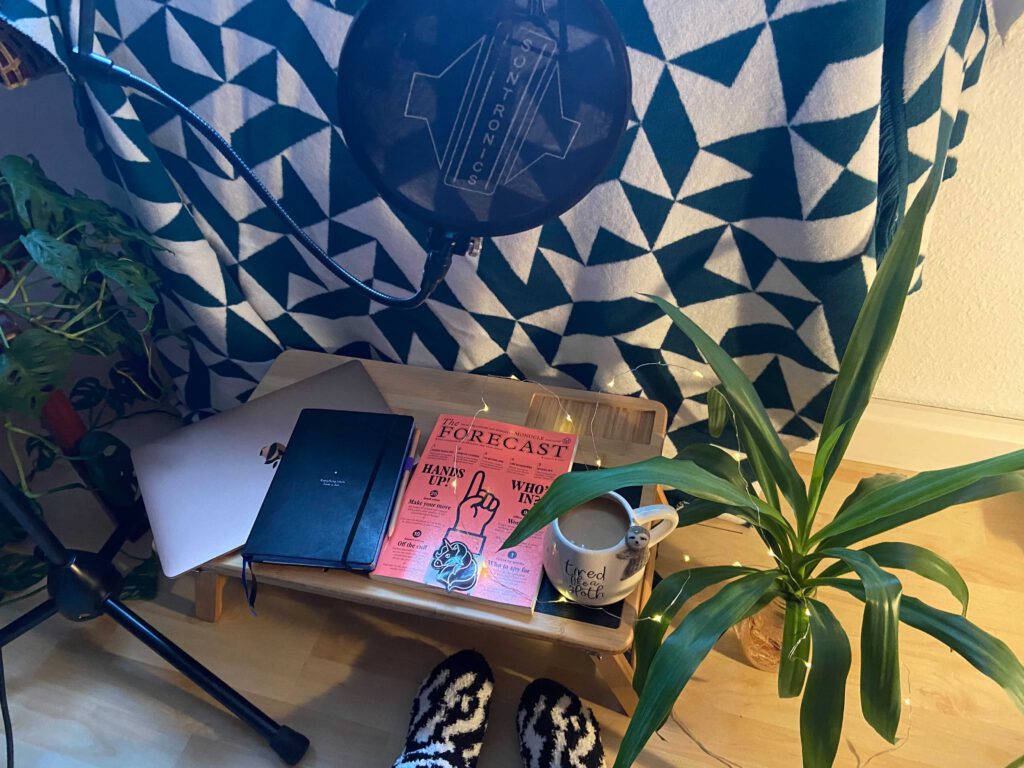 Remember the Heroine's Journey? Well this month our local Bookdragon SandyJ has a mysterious, fun and fast paced book recommendation for you: "Tuesday Mooney talks to ghosts"  by Kate Racculia checks all the boxes. It's a fabulous, addictive, deep story full of well written characters and the Narration by Lauren Fortgang is on point.
To celebrate the cozy time of the year (on the northern hemisphere) and the 10th episode, there is a Spotify playlist for your Magical Unicorn Morning.
To prep for yourself for 2021 there's not only the non-fiction recommendation of Monocle: The Forecast, but also the Unicorn Cleaning Playlist for the start of Susuharai (Japanese version of cleaning before the new year) on December 13th. As always some new book releases are mentioned, too.
The episode will be streamed on Sunday, December 6, 7 p.m. with some songs of the Magical Unicorn Morning Playlist afterwards. On the podcast platforms it will drop on Monday around noon.
Bookdragon: SandyJ
Music: Erwin SchmidtMagical
Unicorn Morning Playlist (Spotify)
Book Recs
Fiction:
Kate Racculia "Tuesday Mooney talks to ghosts" (2019)
https://www.goodreads.com/book/show/43702814-tuesday-mooney-talks-to-ghosts
Non-Fiction:
Monocle: "The Forecast 2021"
https://monocle.com/shop/product/1836064/the-forecast-2021/
December Releases (probably ;-):
Kacen Callender "King of the Rising (Islands of Blood and Stone)", (1. December 2020) Black Author
https://www.goodreads.com/book/show/48903289-king-of-the-rising
Sean Gibson "The part about the dragon was (mostly) true" (15. December 2020)
https://www.goodreads.com/book/show/53283120-the-part-about-the-dragon-was-mostly-true
Saranna DeWylde "Fairy Godmothers, Inc." (29. December 2020)
https://www.goodreads.com/book/show/53498670-fairy-godmothers-inc
Other Stuff mentioned:
Monocle Minute
Monocle The Globalist
https://monocle.com/radio/shows/the-globalist/
Monocle Foreign Desk
https://monocle.com/radio/shows/the-foreign-desk/
Cleaning Motivation videos on YouTube are provided by:
Rachelleea: https://www.youtube.com/user/justsugarandspice
Kalyn Nicholson: https://www.youtube.com/user/Kalynxo13
Muchelleb: https://www.youtube.com/user/muchelleb
Asia Jackson: https://www.youtube.com/user/PersuasiaAsia
Rowena Tsai: https://www.youtube.com/user/rowenatsai