When Books make your credit card howl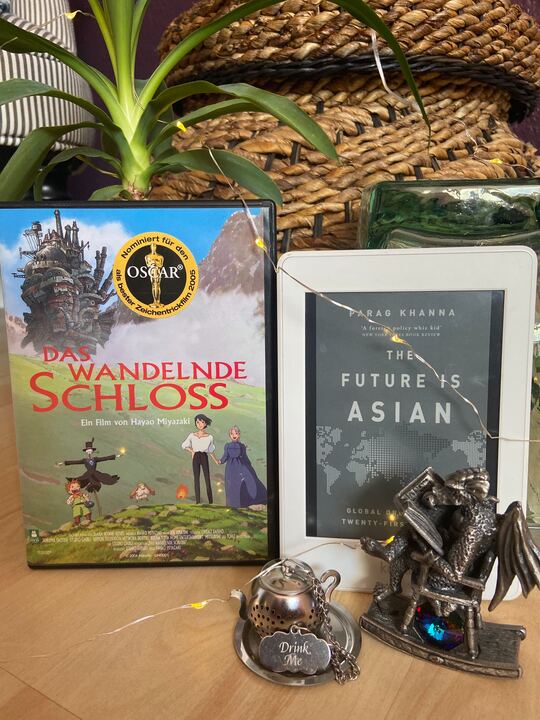 While July was a better month for our local book dragon SandyJ, after all it's gooseberry season, there still was a cyber security incident which led to her and other Fairyloot customer's credit cards howling in pain. SandyJ tells you how she experienced it and what she will do under current circumstances.
Cyber security is certainly a cumbersome but necessary part of the real world, so SandyJ turns to the classic "Howl's Moving Castle" by Diana Wynne Jones for comfort. The real world information with a decidedly Asian point of view provides "The Future is Asian" by Parag Khanna. For those who feel the reading slump "Mystic Pop-Up Bar" provides fantastic fun on Netflix.
Of course this episode gives you a few upcoming August 2020 Fantasy releases to look out for. The first book will even be released into this wild world before this episode airs.
The show notes contain not only all the books mentioned but also the links to two articles on credit card fraud issues. Read your card statements, dear readers!
Premier stream on Campusradio Karlsruhe, Sunday August 2nd, 7 p.m. On the podcast portals soonish next week.
Production: SandyJ
Music: Erwin Schmidt
Other Books and Stuff mentioned:
Shownotes
(Note: American Library Karlsruhe is closed 10.8. – 7.9.)
Fairyloot – Cyber Security Issue
https://community.fairyloot.com/website-security/
Credit Card hack – Germany
https://www.focus.de/finanzen/news/bericht-betrueger-hacken-tausende-deutsche-kreditkarten_id_12224125.html
Recommendations
Fantasy: Diana Wynne Jones "Howl's moving castle" (1986), https://www.goodreads.com/book/show/6294.Howl_s_Moving_Castle
Non-Fiction: Parag Khanna "The future is Asian" (2019), (Stadtbib, auf Deutsch) https://www.goodreads.com/book/show/40539164-the-future-is-asian
Book Releases August (Probably ;-):
G. L. Carriger "The Enforcer Enigma" (1.8.2020) https://www.goodreads.com/book/show/42091427-the-enforcer-enigma
Shveta Thakrar "Star Daughter" (11.8.2020) https://www.goodreads.com/book/show/52781202-star-daughter
Kristina Forest "Now that I found you" (25.8.2020) (BA) https://www.goodreads.com/book/show/46223352-now-that-i-ve-found-you
Pintip Dunn "Dating makes perfect" (18.8.2020) https://www.goodreads.com/book/show/49247041-dating-makes-perfect
Other Books mentioned:
Marie Brennan "A natural history of dragons" (2013), American Library Karlsruhe, https://www.goodreads.com/book/show/21167966-a-natural-history-of-dragons
Mackenzie Lee "The Gentleman's Guide to Vice and Virtue" (2017), American Library Karlsruhe, https://www.goodreads.com/book/show/29283884-the-gentleman-s-guide-to-vice-and-virtue
Mackenzie Lee "The Lady's Guide to Petticoats and Piracy" (2018), https://www.goodreads.com/book/show/37880094-the-lady-s-guide-to-petticoats-and-piracy
Lori M. Lee "Forest of Souls" (2020), https://www.goodreads.com/book/show/45554589-forest-of-souls
Namina Forna "The Gilded Ones" (2021), https://www.goodreads.com/book/show/40024121-the-gilded-ones